Sumter Co., SC John and Jane Doe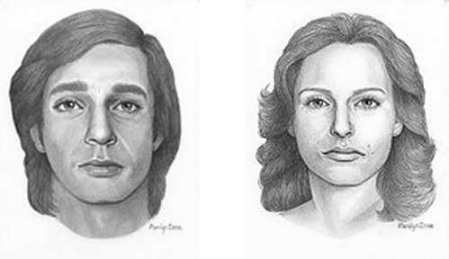 This unidentified couple was found murdered at 6.20 AM on August 9, 1976 on Locklair Road, a dirt road between Interstate 95 and S.C. 341 in Sumpter County, South Carolina, USA. The couple had been shot at close range several times: in the back, chest and throat and had been dead for less than 24 hours. They weren't carrying any identification and remain unidentified to this date.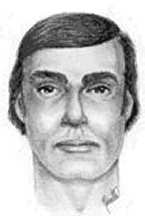 Sketch of victim by Wesley Neville
The unidentified man had brown hair and brown eyes. He was about 6 feet tall (185 cm) and 150 pounds (70 Kg). He was estimated to be in his 20's.
He has a 4" (10 cm) appendectomy scar and two 2" (5 cm) scars on his right shoulder.
The man had very elaborate and expensive dental work with bridges and crowns. He had an acrylic or porcelain crown on the left front tooth and fillings in most upper teeth. He also had some missing teeth in top and bottom but noticeable in top back left. He was missing his lower wisdom teeth.
The man was wearing a red T-shirt with "Coors America's Fine Light Beer" written on the front and "Camel Challenger GT Sebring 75" on the back, faded Levi's blue jeans and didn't have any underwear on.
He wore a Bulova Accutron yellow gold watch, serial number H918803 on his left wrist and a 14 karat gold ring with a gray linde star stone and the initials JPF engraved inside.
He also had a box of Grants Truck stop matches in one of his pocket.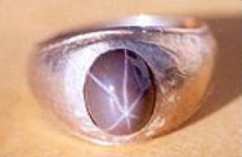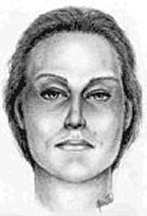 Sketch of victim by Wesley Neville
The unidentified woman had medium length brown hair and blue-green/gray eyes. She was about 5'5" (165 cm) and 105 pounds (47 Kg). She was estimated to be between 18 and 20.
She didn't have any surgical scar. She is described as being an attractive young woman. She had pierced ears. Her eyelashes were very long. She had two small beauty marks on her left cheek and one on the right side of her face. She also had a mole on her right calf. Her legs were unshaven.
She didn't have elaborate dental work. Her upper and lower right wisdom teeth were missing and she had fillings in all back teeth. Her front teeth probably gave an even appearance when she smiled.
When found she was wearing an unbleached muslin blouse, a pink knit halter top that tied in the front, cut-off Levi blue jean shorts and a pair of wedge-heeled sandals with lavender, pink and purple straps. She had no underwear on.
She was wearing three silver rings resembling American Indian or Mexican costume jewelry. One had red, white and blue stones, another a feather scroll with rust and green stonean and the third was oblong black stone with three green flecks.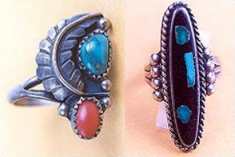 The couple had no money on them when their bodies were discovered but they seemed well to do. Their skin was smooth and had olive undertone making them look as possibly from another country than USA. The pair may have been hitchhiking through the country. It has been speculated that they might be brother and sister.
Their fingerprints and dental records are available for comparison.
The unidentified man and woman were buried in August 1977 in Bethel (SC) United Methodist Church cemetery under two bronze plaques reading: "Male Unknown, Aug. 9, 1976" and "Female unknown, Aug. 9, 1976".
If you have any information concerning the victims identity, please contact:
Sumter County Coroner Verna Moore
803.436.2111 (office)
803.778.3613 (beeper)
Source Information:
The Item
through
The Crime Library